Sat Sep 23, 2017

10:30am - 2:30PM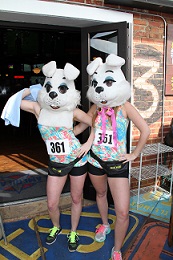 Saturday, April 29th
Starting at Ink 'N Ivy
10:30am – 2:30pm
Check-in: 10:30am – 11:30am
Start Race: 11:30am
Finish Race: 2:30pm
But don't leave just yet.
Hang with us for the after party once you return.
Work in teams of two to conquer challenges, figure out clues, 
take pictures and video as you race against the clock 
to finish this scavenger hunt.
You and your partner head out of home base to gain points
based on clues you are given. To earn points, you have to
walk, jog, skip to various locations based on the clues. At each
location you will need to capture what is listed in the clue on video 
or by picture using a mobile device. The team with the most points
and back to home base WINS!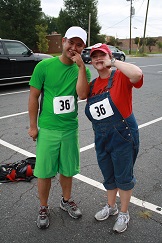 COST:
$40 NOW thru April 28th @ Midnight
$50 Day Of & Walk Ups
TEAMS:
COED
MEN'S 
or
WOMEN'S
COSTUME:
Get your creative juices flowing as you can 
receive extra points for dressing up!
(points given based on judges discretion)
T-SHIRTS:
Don't forget to put your size on your
registration form
(sizes not guaranteed to late registrations)
TOP OVERALL PRIZE:
$1,000 in Gift Certificates & Event Tickets
THINGS YOU SHOULD KNOW:
Home base will be Ink 'N Ivy Uptown.
Each team must have a least one FULLY CHARGED mobile device.